Coda are a group of 7 singers and musicians; Declan Askin, Steve Bryant, Mike Cannon, Alan Drumm, Leonard Kelly, Brian Lennon, Conall Ó Domhnaill. They are noted for combining strong backgrounds in Irish traditional, folk and contemporary popular music with an acapella singing ability. This is the potent mix Coda.
Drawing on vocal talent from the west of Ireland, Coda began developing their own approach to vocal performance several years ago. Coda offer an exciting new perspective on traditional and contemporary folk songs, original compositions and popular songs. Their wide-ranging repertoire comprises both acapella arrangements and self-accompanied songs with a traditional Irish twist.
'Sometimes it happens completely out of left field, comes a band that just blows your socks off……. One of the most exciting bands I've ever heard. I can't state too strongly how wonderful I think these guys are' – Mike Harding, The Mike Harding Folk Show.
'They're based in Westport, County Mayo and I regard them as an invigorating and restoring breath of fresh air' – Earle Hitchner, Wall Street Journal.
Freda Hatton holds a BA in Music and Irish from UCC. She won the Senior All-Ireland Harp Competitions at Fleadh Cheoil na hÉireann and the O'Carolan Harp Festival, Keadue, Co. Roscommon. She composed and performed music with Branar Téatar do Pháistí and has performed all over the world at concerts, festivals and events. She was the selected harpist on the Comhaltas Ceoltóirí Éireann tours of Britain and North America. Prior to the pandemic she was a regular session player around Westport and previously in Galway. Freda will perform with Coda as part of this year's Achill International Harp Festival.
Steve Cooney is best known for his development of an influential style of guitar accompaniment to the traditional dance music of West Kerry, for which he won the National Entertainment Award in 1997. Born in Australia, he came to Ireland in 1980. He has participated in making more than 250 CD's, either as a guitar or bass player or as producer and engineer. Also a poet and songwriter, he has worked with many iconic international artists in rock and country music but his primary focus is Irish traditional music, and fusions of that genre, including a recent release of solo guitar interpretations of ancient harp tunes. He completed a Ph.D. in 2018 on an intuitive musical notation system that he has developed for early learners. In 2020 Cooney won three RTÉ Folk awards as well as receiving a Lifetime Achievement award, he is also the recipient of the TG4 Gradam Ceoil, Composer of the Year 2021.
'Master Cooney restores the ancient link between lyre and lyric, between poetry and performance, the rhapsody and rascality' – Séamus Heaney, Fiddler's Green awards, Rostrevor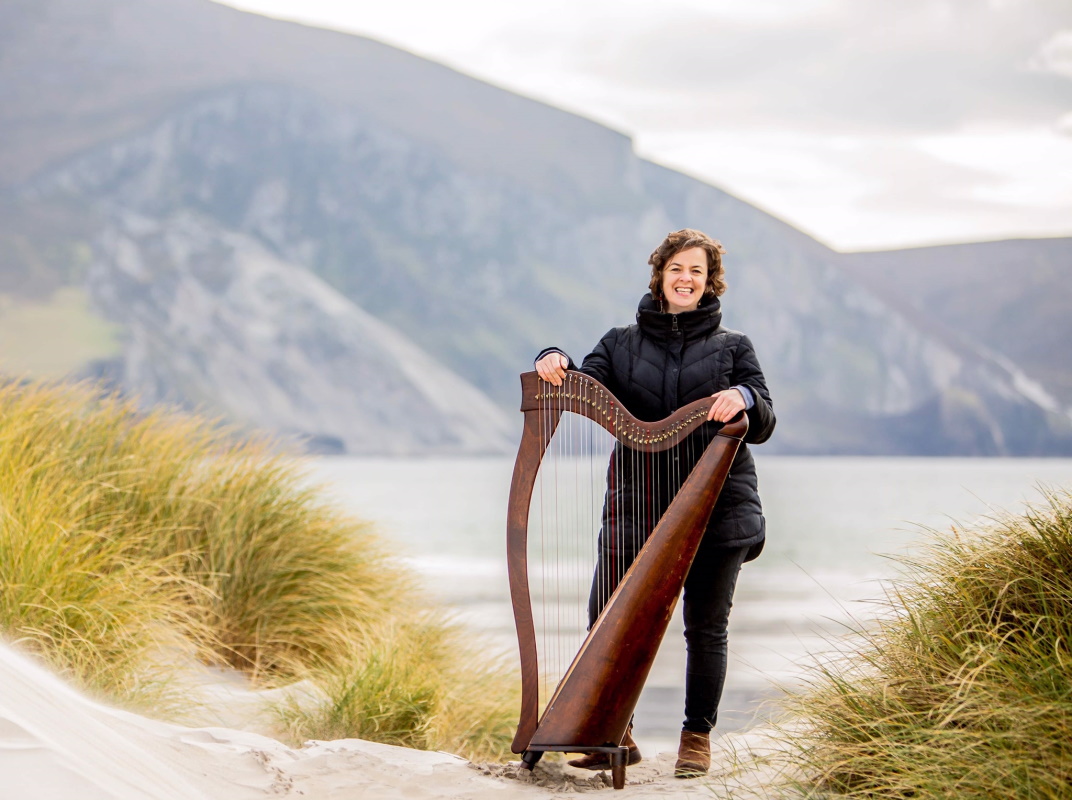 Laoise Kelly is from Westport and now lives on Achill Island. She is regarded as one of Ireland's leading traditional harpers. She has pioneered a new style of driving instrumental harping showcased in her three critically acclaimed solo albums Just Harp, Ceis and Fáilte Uí Cheallaigh. Her harping style combines the techniques of fingerpads in the bass and fingernails in the melody on a thirty-four gut strung Paddy Cafferky harp. She is known for her inventive accompaniment to traditional tunes and more recently for her own compositions. Laoise has performed and recorded with the foremost artists in Irish music from The Chieftains to Kate Bush and on over 70 albums. She represented Ireland at the World Harp Festival in Paraguay. Laoise was awarded TG4 Gradam Ceoil Musician of the Year 2020. She is the director of the Achill International Harp Festival.
Tiarnán Ó Duinnchinn is an award winning Uilleann Piper from Monaghan who started playing when he was nine years of age in the Armagh Pipers Club. Tiarnán has been touring and performing professionally on a regular basis since 1995, both as a member of various bands and as a solo performer. His music has taken him to Europe, United States, Asia, Africa, Canada, Japan, New Zealand and Australia. He has performed and recorded with numerous musicians over the years, including Tommy Peoples, Máire Ní Bhraonáin, Laoise Kelly, Paul O'Shaughnessy, Brian Finnegan, Niall and Cillian Vallely to name just a few. His music has also featured in two films. Tiarnan has been described by many as being one of the most influential pipers of his generation.
'Ó Duinnchinn's precise articulate playing quickly explains his many awards. His mastery of the pipes is without question and leaves no doubt about the subtleties of his musical inventiveness' – Journal of Irish Music.
Eilís Lavelle, a harpist from Monaghan, began learning music at a young age and had the opportunity to learn harp at the Armagh Pipers Club. Eilís continued developing her musical skills with many tutors and has gained vast experience as a performer. Having completed her B.Mus degree at DIT Conservatory of Music and Drama she was awarded the Leo Rowsome award for the highest achievement in Irish Traditional music. She has gained much experience collaborating and performing with musicians from a wide range of genres. Broadcasts include performances on Tg4's Sé mo Laoch and Geantraí, RTÉ Television, BBC Television and Radio, RTÉ Lyric Fm and Radio na Gaeltachta. Eilís is currently undertaking a PhD at Queen's University, Belfast focusing on the Edward Bunting collection of music. In recent years she has gained extensive experience both on stage and teaching harp having performed throughout USA, Canada, Europe and further afield.
Niall Hanna is a traditional folk singer and songwriter from Derrytresk, County Tyrone. In early 2018, he burst onto the Irish folk scene with the release of his first solo album of songs 'Autumn Winds'. Featuring some well-known Ulster ballads, the album also displayed Niall's ability as a young songwriter. Niall performed material from this album alongside the Ulster Orchestra, and the title track 'Autumn Winds' was nominated for Best Original Track at the RTE Folk Awards in October 2018. He also received a nomination for Best Emerging Folk Artist. Niall draws influence from the singing of his grandfather, the late Geordie Hanna. He combines his northern style of singing with guitar accompaniment and is currently working on a second solo album which is eagerly anticipated by folk audiences in Ireland and beyond. Niall Hanna is TG4 Gradam Ceoil Singer of the Year, 2021.
Caoimhe, Séamus & Rónán Ó Flatharta
Siblings Caoimhe, Séamus and Rónán Ó Flatharta hail from the Gaeltacht region of Conamara in County Galway. Born into a musical family in the village of An Áird Mhóir, they were exposed to traditional Irish Music at a very young age and later developed into accomplished multi instrumentalists, singers and dancers.
The Ó Flatharta siblings are noted for their unique arrangements of well-known Sean-Nós songs, taking a particular interest in vocal arrangement and harmonization. The trio are multi All Ireland winning performers who keep their language and heritage at the heart of all their musical endeavours.
Siobhán Armstrong is one of Europe's best-known harpists playing pre-1800 repertory on reconstructions of historical instruments, performing early church-, chamber-music and baroque opera with some of the most respected directors, orchestras and opera companies in the field. Within Irish music, Siobhán places herself where 'historical' meets 'traditional'. For more than 25 years, she has been exploring the neglected repertory, playing techniques and idiom of the early Irish harp. In 2014, she located a lost historic Irish harp, and in 2016 she commissioned the first ever 3D-laser scan of a musical instrument at The National Museum. Her PhD thesis (Middlesex University, 2021, forthcoming) concerns eighteenth-century, Irish-harp performance practice. With her ensemble, The Irish Consort, she has begun a unique recording series to document music in Ireland, 1500–1800. Their new CD: Music, Ireland and the Sixteenth Century ' is not to be missed.' [5/5, The Irish Times, 2021].
The Cafferky Crew are Padraic Collins, Andrew Gallagher and Harry Lawlor, three harpers from North Mayo. They are all former students of well-respected music teacher Peter Neary. Interestingly, all three perform on Paddy Cafferky harps, hence the name, Cafferky Crew. As well as harp, these young men tried their hand at a diverse range of instruments while all playing with Bofield CCE. Music continues to be an important component in all of their lives.
Padraic completed a BMus degree in Maynooth University, PDE in Music Education in the University of Limerick, as well as an MA in Irish Traditional Music Performance. He has toured extensively as a professional musician. He currently works with Music Generation, Roscommon.
Andrew also pursued a BMus degree at Maynooth University. Music has taken him all over the world. He has recently returned from a stint in the desert in Dubai. He is currently teaching music in Belmayne Educate Together Secondary School, Dublin.
Harry is a member of Ballina based band Billow Wood and has been touring internationally since the age of 17. Harry has proudly performed on his Cafferky harp from Berlin to Malawi to Nashville and now back to Achill. Harry's influences on the harp include Michael Rooney, Laoise Kelly and Michelle Mulcahy.
Simon Chadwick was born and grew up on the edge of the New Forest in the south of England. He lived in Oxford for 8 years, and then in St Andrews in Scotland for 12 years, before moving to Armagh in 2018. Simon was taught change-ringing on tower bells by his mother when he was just a boy; he went away to University and studied physics for one year before switching to archaeology. Now he applies this background and training to the study of the harp traditions of Ireland and Scotland. As well as learning to play the old Irish harp, based on the earlier work of Ann Heymann, Simon started gathering information about the surviving historical harps preserved in museums, and this led to him commissioning replicas or copies of them. He did a lot of work researching and experimenting with historical stringing and setup, using brass wire strings. He also started collating and studying the sources for old Irish and Scottish harp music, aiming to restore the old music to the reconstructed instruments.
Aisling Lyons is a multi-award winning harpist & concertina player from County Clare. Aisling comes from a family who are steeped in the tradition of Irish music & song. She is the holder of 8 All-Ireland titles. An experienced performer and much sought after teacher, Aisling has performed and taught masterclasses in the UK, Shetland, Norway, France, Germany, USA, China, Canada & Australia. Graduating with a First Class Honours Degree in Irish Music from The University of Limerick in 2018, Aisling was awarded First Class Honours from the Professional Master of Education course in 2021 & holds a Grade 8 award with Distinction from the London College of Music. Alongside playing with various groups and being involved in many collaborations, she is a competent composer of original music in the traditional Irish idiom. She has been described as 'one of the rising stars and budding composers of the Irish harp world – rooted in tradition and beautifully inventive'. In 2021, Aisling performed with Tolu Makay on RTÉ's 'Ireland in Music' and for Michael D. Higgins' 80th Birthday Celebrations on TG4.
Aisling has recorded her debut album of original compositions 'Aistear' and is expecting its release in Autumn 2021.
Úna Ní Fhlannagáin is an award-winning harper-composer and singer from Co. Galway. An instrumentalist of verve and imagination, she is rooted in diverse musical influences including the dance music tradition of North Clare, the sean-nós singing style of Maigh Seola, the American post-minimalists and free jazz. She has performed her wildly energetic jigs and reels, delicate hornpipes and emotive slow airs throughout Europe, North America and the Middle East. While studying for a first-class honours university degree, she branched into jazz and contemporary music, studying and performing with legendary free jazz musician Anthony Braxton. More recent achievements include a commission by the World Harp Congress and a composition published by Cairde na Cruite. She has performed her own compositions worldwide including a performance with Grammy Award winner Bobby McFerrin. Úna strives to mine the richness of her native tradition, explore the potential of her instrument, and respectfully engage with other genres.
Michael Rooney is a prolific composer and is widely regarded as one of the foremost players of the traditional Irish harp. Originally from Scotstown Co. Monaghan and now a long time resident of County Sligo, Michael has composed thirteen suites of music in the past 20 years including Constance (2020) The Famine Suite (2019) The Macalla Suite (2016) Boróimhe Suite (2014) The Second Coming (2014) De Cuellar Suite (2011) and Battle of the Books Suite (2007). In May 2015 Michael was commissioned to write music and perform on the occasion of Prince Charles' visit to Sligo. His music features on 'The Queen's Speech' RTÉ's documentary of Queen Elizabeth's visit to Ireland. He has recorded two CDs with flute player June McCormack 'Draíocht' and 'Land's End' and has also published four books of his own compositions. Michael was awarded the TG4 Gradam Ceoil, Composer of the Year, 2017.
Gráinne Hambly from Claremorris, County Mayo is an internationally recognised exponent of the Irish harp and is in great demand as a performer and teacher, both at home and abroad. She studied music at Queen's University Belfast and also plays concertina. Gráinne has toured and recorded with various artists, including performances as far afield as Japan, Brazil and Colombia as well as frequent tours to the USA. She regularly teaches at various summer schools and festivals, and also offers private and group tuition online. She has released 3 critically acclaimed solo CDs, as well as 2 books of harp music. Her most recent collaboration is with her husband Scottish harper William Jackson, with whom she frequently tours. They have released a recording Music from Ireland and Scotland (2009) as well as publishing some arrangements of Irish music for harp ensemble and they also direct the Music Generation Mayo Harp Ensemble.
Pamela Gray is an artist/illustrator from Westport Co. Mayo. Drawing, painting and mixed media are to the fore of her artistic practice. Her work is informed by sources real but mostly imagined, often drawing inspiration from childhood memory, fairy tales and nonsense poetry. Gray's inventive drawings are elegant, layered, humorous and often full of surprise. Her educational background includes a Diploma in Textile Design, Galway Mayo Institute of Technology; First Class Honours Degree in Illustration, Derby University, England; One year of an MA in Children's Book Illustration, Anglia Ruskin University, Cambridge, England. In 2009 and 2015 she designed the Westport Arts Festival posters she has also illustrated pictorial maps of Mulranny, Westport and Newport. Gray has exhibited in solo shows and in numerous selected group shows.
Mary Lavelle Burke was born in Achill Island. She was educated in Achill and at St. Louis Convent, Kiltimagh. In 2007 she received a B.A. in Fine Art and Design. After a successful banking career in Dublin, Mary returned with her family to live in Achill. Married to a knowledgeable Achill fisherman and surrounded by the sea, the ocean informed many of Mary's paintings. Consumed by the moods of the ever changing Achill landscapes, Mary produced evocations of wind, rain, sun, shadow, cloud, shoreline and horizons. Her work was sensitive to the things we feel but cannot see. For Mary, painting was a conversation with the artwork itself.
Mary was a champion of all things cultural on Achill Island. She gave generously of her time and vision to local artistic initiatives. Mary was a founding member of the AIHF Casadh na Taoide project. Sadly, Mary passed away before the voyage was realised. She was an essential link between the people of the islands and the crew of the Mac Duach. Her passion and enthusiasm for Casadh na Taoide was felt every single day of the voyage.
Achill International Harp Festival are proud to dedicate Casadh na Taoide to their beloved committee member, Mary Lavelle Burke.
Proinsias Mac a' Bhaird hails from Árainn Mhór in the Donegal Gaeltacht. He has published four poetry collections in addition to 4 novels and other books for children. His work has been awarded prizes in many competitions, including The Oireachtas Literary Awards, The Colonel O'Neill competition, Fingal Poetry Prize, Strokestown Poetry and Reclaim the Vision of 1916. His novel Tairngreacht was named Irish Language Book of the Year at the An Post Irish Book Awards in 2019. He is currently working on a new novel.
Beth Moran weaves because it enriches the fabric of her life. She has been weaving for over 30 years and works in a variety of materials ranging from her own sheep's wool, homespun and naturally dyed to fine linen and silk. She is continuously intrigued by the changing environment and challenged by the unexpected and exciting nature of existence. She draws inspiration from the beauty that surrounds her on Clare Island. It begins with one thread, an idea, a plan, an inspiration and a vision. From there it builds into a piece with a life of its own which unfolds as she works. Each piece is individual and unique. This is important to her because she believes in the unique and everchanging nature of everything. Beth believes the sea is really a part of her. She is surrounded by it; she submerges in it and she does not think she could live very happily without it. This reflects in her work which often takes on the sea's personality in movement, colour and space. Beth's world is a world of patterns, colour and texture. Each piece is like a symphony created in movements with different moods growing in each new thread woven.
Brought up on the island of Inishbofin, Andrew Murray grew up surrrounded by local and visiting singers and musicians performing in his family's famous music bar in Murray's Doonmore Hotel.
After hearing him sing there, Andrew's music career began when Alec Finn asked him to join De Danann. His voice is now widely known in the folk and traditional world after years of recording and touring all over the world with various line-ups and releasing his own album, Hell or High Water.
Having been a primary school teacher for years, he now manages the Doonmore Hotel on Inishbofin. As a result, he has stepped back from the touring and recording in recent years. Keeping in touch with his many musical friends, he chooses to get involved in a small number of projects annually. As a sailor, Gaeilgeoir and musician, Casadh na Taoide is one such project which is especially close to his heart.
Cathy O'Toole, a primary school teacher from Inishturk Island was introduced to Irish traditional music from a young age by her musical family. Cathy began learning tin whistle from Mary Finn at the age of eight and now plays concertina as her main instrument. Cathy's music has been heavily influenced by many Mayo great musicians such as the O'Mongáin brothers. Cathy completed a masters in Irish Traditional Music Performance from the Irish World Academy at the University of Limerick in 2019 and is now currently working and living in Dublin.
Film:
Casadh na Taoide
The Turning of the Tide
This film by Heavy Man Films captures the essence of the Casadh na Taoide project, with particular focus on selected artists from each island, including  Andrew Murray (Inishbofin),  Cathy O'Toole (Inishturk),  Beth Moran (Clare Island),  Proinsias Mac a' Bhaird (Arranmore) and Mary Lavelle Burke (Achill).
Supported by the Arts Council of Ireland.
Pre Recorded Tutorials & Workshops
Online Harp Tutorials
Complete Beginner Tutorial Series – Úna Ní Fhlannagáin
Intermediate – Laoise Kelly, Eilís Lavelle, Gráinne Hambly
Advanced – Laoise Kelly, Michael Rooney, Séamus Ó Flatharta, Aisling Lyons
Geometric Visualisation – Harmony Workshop – Steve Cooney
Using the system of Geometric Visualisation of music which was developed over 30 years ago to simplify the notation and calculation of music: rhythm, melody and harmony. It is aimed at early learners and those with difficulties reading staff notation. This workshop will focus on the calculation of scales and modes, and calculation and practice of basic harmony.
Children's Bilingual Story:
The Dagda's Harp
The Dagda was the chieftain of the Tuatha dé Danann, he owned many magical items but his prized possession was Uaitne, his harp. This enchanting, bilingual tale recounts the story of what happened when the Formorian people stole the Dagda's harp. A beautifully illustrated crankie scroll brings the story to life and transports viewers back to our ancient past.
Illustration: Pamela Gray, Music: Laoise Kelly, Narrator: Martán Ó Mongáin
Talk:
Edward Bunting In Manuscript & Print
This presentation by Eilís Lavelle focuses on the development of two specific melodies found in the unpublished manuscripts – Molly McAlpin and Fanny Power. These two tunes are used as examples to demonstrate Bunting's style of alteration for the purpose of his publications. The difference between manuscript notations and Bunting's publication of the melodies will be explored.
Steve Cooney, TG4 Gradam Ceoil, Composer of the Year, 2021
Caoimhe, Séamus & Rónán Ó Flatharta
Cafferkey Crew, supported by Cruit Éireann Harp Ireland
Eilís Lavelle & Niall Hanna, TG4 Gradam Ceoil, Singer of the Year, 2021
Virtual Walk:
The Paul Henry Trail
'Achill…. called to me as no other place had ever done' – Paul Henry,
Achill Island's unique and breath-taking landscape has provided both a home and inspiration to many artists over the years. Join us on a walk following in the footsteps of artist Paul Henry and admire the views which influenced so much of his work.
Talk:
An Overview Of The Old Irish Harp Tradition
This talk discusses the history of the Irish harp from the earliest times through to the end of the tradition around 200 years ago. Looking at the old harps, and harpers, and their stories, and how musicians today are trying to re-connect to the old tradition.
Simon Chadwick, in association with Historical Harp Society of Ireland.
Siobhán Armstrong, in association with Historical Harp Society of Ireland.
Coda & Freda Hatton, with special thanks to Steve Cooney
Aisling Lyons
Laoise Kelly & Tiarnán Ó Duinnchinn