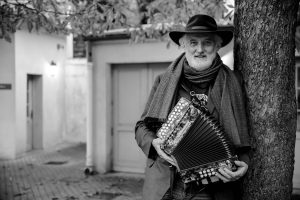 Born into a famous musical family, the youngest of nine children, Breanndán Ó Beaglaoich soaked up the music and song of West Kerry from an early age. Slides, polkas, songs and slow airs all run through his veins. He has four acclaimed solo albums to his name, as well as numerous recordings with the groups Boys of the Lough and Beginish. He plays and has recorded with Caoimhín Ó Raghallaigh. He has guested this year with Glen Hansard and John Sheehan in the National Concert Hall, Brooklyn Steel Hall NY and Carnegie Hall.
More recently he has been joined in performances by his family, comprising sons Bréanainn (Guitar), Cormac (Concertina), Conchúbhair (Accordion) and daughter Clíodhna (Fiddle and sean-nós dancing), carrying on the long line of music from Corca Dhuibhne and the Begley family.
Is é Breanndán an té is óige de naonúr clainne atá báite sa cheol i gCorca Dhuibhne. Tá sleamhnáin, polcaí, amhráin agus foinn mhalla ag rith trína chuisle agus ina chuid fola. Tá ceithre dhlúthdhiosca dá chuid féin déanta aige chomh maith le taifeadtaí le Boys of the Lough agus Beginish. Tá seinnte agus taifeadta aige le Caoimhín Ó Raghallaigh. Tá seinnte aige le Glen Hansard agus John Sheehan agus Rosie McKenzie sa Cheoláras Náisiúnta agus in Carnegie Hall, chomh maith lena lán áiteanna eile.
Seinneann sé chomh maith lena chlann Bréanainn ar ghiotár, Cormac ar chonsairtín, Conchúbhair ar bhosca ceoil agus píb uileann, agus Clíodhna ar veidhlín, vióla agus rince ar an sean-nós.